Plantar Fasciitis & Arch Pain
As much as plantar fasciitis can affect your life, don't let it get you down. Work on a pain management plan with your doctor and continue trying different options until you find the right combination for your individual needs!
Plantar fasciitis is a common condition. It can be very painful and significantly impact quality of life. Whether you're an active runner experiencing heel pain or you stand or walk at work for extended periods of time, PowerStep® has the right products, proven to help alleviate pain.
PLANTAR FASCIITIS PAIN RELIEF AND PREVENTION WITH POWERSTEP INSOLES
Our anatomical design provides the right amount of arch support to keep the plantar fascia stretched throughout the day, relieving PF pain and preventing recurrence. With several insole options to choose from, you can find the perfect blend of cushioning and support to alleviate foot pain and get back to doing what you love. 
The most popular products for alleviating pain from plantar fasciitis are PowerStep® insoles. 
PLANTAR FASCIITIS PAIN RELIEF AND PREVENTION WITH POWERSTEP FOOTWEAR
If you can't tolerate closed-toe shoes but have plantar fasciitis, consider
PowerStep's footwear
. These orthotic sandals and slippers have the same shape and contour of trusted PowerStep® insoles built in to the design. This ensures you are continuously supporting your feet whether you live in a warmer climate, are on vacation or simply walking around the house.
Flip-flop and slide sandal
options and
cozy slippers
 are available for men and women.
PLANTAR FASCIITIS NIGHT TIME RELIEF AND PREVENTION
Along with insoles for daytime use in alleviating symptoms of plantar fasciitis, PowerStep® offers products for night time use. If you suffer from PF, you know that often the most painful time of day is stepping out of bed in the morning. The Plantar Fascia contracts and tightens during the night, as many people sleep with their toes pointed and sometimes even curled.
A great option to help alleviate PF pain are the 
UltraStretch Night Sock
, 
Dorsal Night Splint
, or for more severe or chronic issues, the 
Plantar Fasciitis Night Splint
. These products provide a gentle stretch to help reduce inflammation and alleviate pain from those first steps in the morning. The splints are more rigid products, while the night sock provides similar stretch but may be more tolerable for sensitive sleepers.

PLANTAR FASCIITIS RELIEF AND PREVENTION WITH BRACES AND SUPPORTS 
Other great options for PF relief include the 
Plantar Fasciitis Support Sleeve
, for use at rest and the 
UltraFlexx® Foot Rocker
 for stretching. The PF Support Sleeve provides compression around the arch to help lift and support the arch to ease the strain on the Plantar Fascia to relieve pain. The UltraFlexx® stretches and strengthens the muscles, ligaments and tendons of the foot and lower leg. It increases flexibility and strength to help prevent and treat injuries. Continual stretch of the soft tissues can help prevent recurrence of plantar fasciitis.
Be sure to check out the reviews on all of our products! For more information about foot health, visit our Resource Center.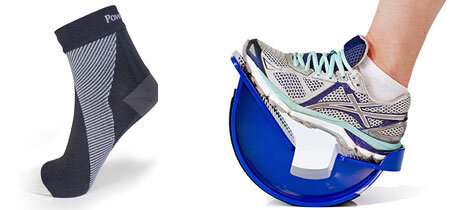 The most popular products for alleviating pain from plantar fasciitis are PowerStep® insoles. 
View and shop insoles
.